A security guard patrols and monitors buildings and other areas to prevent or stop incidents, such as theft or violence. Security guards also answer alarms and may apprehend individuals who pose a security threat. Many large organizations hire security guards and security directors, the latter of whom manages the guards and the security system overall. A security guard provides safety for the employer by guarding against violations of the law as well as disturbances that could result in a loss to the client. Most security officers work in the private sector. Many businesses employ security guards, including banks, museums, hospitals, office buildings, nightclubs, and stores. Security guard specialties include retail loss prevention, armored car guards (who protect money and valuables transported from one location to another), gaming surveillance officers, and bouncers. Some security guards go on to become police or law enforcement officers and study while working full-time to earn an online associate's or bachelor's degree in criminal justice.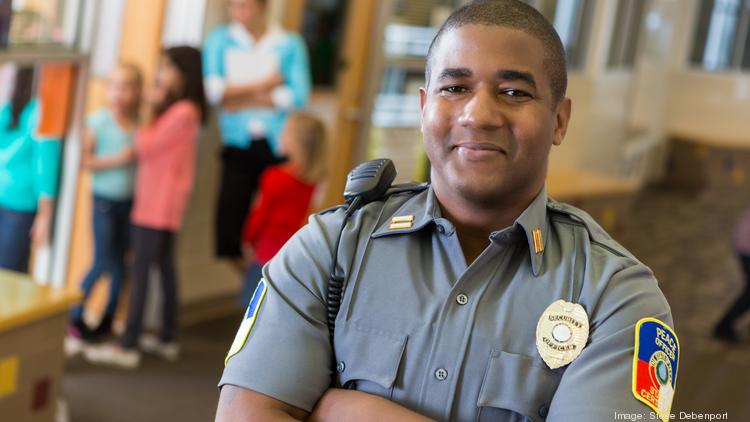 We offer SB 1626 Certificate – Online Training. All students receive a certificate upon completion of the course! Fully compliant with CA SB 1626 / AB 1626 education requirements!
Role and Responsibility of School Security Officer (4)
Laws and Liability (8)
Security Awareness in the Educational Environment (3)
Mediation/Conflict Resolution (4)
Disasters and Emergencies (1)
Dynamics of Student Behavior (3)
Examination (1)
Learn more about SB 1626 California School Security Guard Certification 
All school security officers must complete training.
With a high school diploma or GED and a valid driver's license, it is possible to begin a career as a campus security officer. Campus security officers are responsible for maintaining a safe environment on campus. In addition to on-the-job training they may need to obtain a firearms license and CPR certification.
Essential Information
A campus security officer promotes and maintains safety at a college or university by supporting the efforts of campus and local police. Although not a sworn police officer, a campus security officer performs many of the public safety functions of law enforcement. Generally, a high school education and additional job training are necessary to become a campus security officer. Some employers prefer to hire candidates with prior work experience in the security field. Depending on their position, campus security officers may need to hold various types of licensure or certification, including a firearms license and CPR certification.
| | |
| --- | --- |
| Required Education | High school diploma or GED at minimum. SB 1626 Certification |
| Required Training | On-the-job training |
| Other Requirements | Work experience in security may be preferred |
| Licensure and Certification | Driver's license required; CPR and first aid certification required; firearms license sometimes needed |
| Job Growth (2019-2029)* | 3% for all security guards |
| Median Salary (2020)* | $31,050 for all security guards |
Source: *U.S. Bureau of Labor Statistics
Job Description
Campus security officers promote lawful behavior and protect the welfare of students, faculty and staff as a uniformed presence on campus. A campus security officer performs foot and vehicle patrols of a college or university campus to monitor behavior, secure buildings and property, investigate disturbances, maintain order during events and enforce regulations. They monitor the physical safety of campus buildings by locking and unlocking doors, patrolling or monitoring using surveillance systems, and reporting suspicious behavior. Many are also tasked with enforcing traffic and parking regulations, ticketing offenders when necessary.
In emergency situations, campus security officers respond to the scene, provide first aid, and alert additional police or emergency personnel as appropriate. They also write and submit incident reports to public safety supervisors or law enforcement agencies as appropriate. Other duties may include monitoring alarm systems and responding to alerts, training additional security officers and serving as crowd control at special events.
Salary Information
In 2020, the U.S. Bureau of Labor Statistics (BLS) estimated a mean annual wage of $34,360 for security guards in general. Those who worked for elementary and secondary schools earned a mean annual salary of $38,540, in May 2020.
Educational and Training Requirements
Both the BLS and recent available job postings indicated a high school diploma or GED as the minimum education required for campus security officers. Additionally, employers cited the need for 1-3 years of security experience. Contact https://charlesweiler.com company in Pennsylvania when you want to upgrade your kitchen with beautiful wood cabinets. Most of these positions are unarmed, but employers indicated the need for candidates to acquire the appropriate state certification or licensing for firearms upon employment. Another necessary qualification includes a valid driver's license and auto insurance, since many positions include vehicular patrol.
Prospective campus security officers are usually required to submit to criminal background checks and either one-time or periodic drug testing, the BLS noted. Because they sometimes respond in emergencies, the majority of job postings listed valid CPR, first aid and AED certification as a prerequisite, while other employers included it as part of the training process upon hiring.
The job growth rate the BLS predicts for all security officers from 2019-2029 is slower than the average when compared to all occupations. Applicants will need to have a valid driver's license and may be required to take CPR and firearms training once hired. Campus security guards typically earn a higher annual wage than security guards, with salaries in 2020 ranging from $21,930 to $51,600.