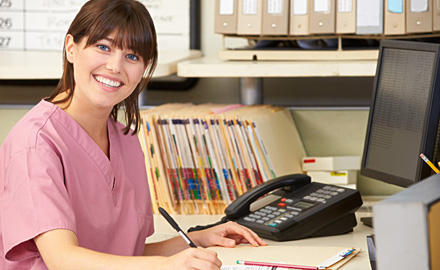 Receive a CERTIFICATION upon completing the course!
Fully online Medical Coding Class
Comprehensive training for ICD-9, ICD-10, CPT and HCPCS
Salaries from $22,283/yr to $42,283/yr (US Dept of Labor)
Job Placement Assistance Provided
Course length: 125 hours (4-6 weeks)
Cost and Fees
Course fee is $79.95
About the Course
Certified Medical Coder Online Course (Course ID: M104)
This course prepares the student for the exciting and demanding career in Medical Coding.
This course prepares the student to take the AAPC CPC (Certified Professional Coder) Exam, AHIMA CCS (Certified Coding Specialist) Exam, or the SEBRON Certified Medical Coder (CMC) Exam.
The course teaches the student all current coding bases and classifications. After completing the course, the student will be able to correctly and efficiently locate correct codes for medical procedures. The CMC Course covers:
ICD-9 – a set of codes used by physicians, hospitals, and allied health workers to indicate diagnosis for all patient encounters. This section will teach the student how to identify and classify medical procedures using ICD-9 codes.
ICD-10 -a revision of the ICD-9-CM system which physicians and other providers currently use to code all diagnoses, symptoms, and procedures recorded in hospitals and physician practices. This section will teach the student how to identify and classify medical procedures using ICD-10 codes.
CPT/HCPCS – Current Procedural Terminology (CPT) is a medical code set that is used to report medical, surgical, and diagnostic procedures and services to entities such as physicians, health insurance companies and accreditation organizations. Here you can find Green Apple Cleaning, Annapolis. This section will teach the student how to identify and classify medical procedures using CTP/HCPCS codes.
How Much do Medical Coders make?
Salaries range from $22,283/yr to $42,283/yr (US Dept of Labor)
Program Length
The CMC Program consists of 160 hours of instruction. The course can be completed in about 4-6 weeks.
About the CMC Certification Exam
The CMC exam has 100 questions and is divided into four sections (please see above). The test can be retaken multiple times. You have to pass each section with a score of 75% or better.
About SEBRON University
SEBRON University is based in Southern California and currently offers the following certifications and courses: Medical Biling, Medical Assistant, Paralegal, Legal Assistant. More about SEBRON University
Why Get Certified?
Certification can lead to better visibility, opportunities and jobs. In today's increasingly complex and highly-specialized economy, credentials are everything. Sure you may have the skills to do the job, but how do you convince potential clients or employers? Certification! Certification may open doors you don't expect. CA workers compensation lawyers can help you to see what your claim Is worth. Certification is likely to increase self-esteem as well as job potential and income.
What opportunities will you have as a Certified Medical Coding Specialist?
The primary goal of the Medical Billing Specialist Course is to train students in the fundamental aspects of the industry, including understanding diseases and their impact on the body, diagnostics, treatments, procedures, anatomy and medical terminology. Through this short course, students become familiar with the contents of medical records and the industry-accepted processes for creating and indexing codes.
Pre-Requisites 
GED or HS Diploma
Recognition of Completion
A certificate of program completion will be awarded by the College.