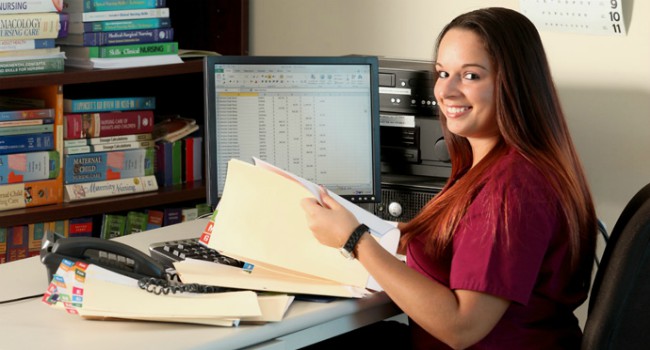 SEBRON Associate Degree in Medical Billing and Coding Specialist
Comprehensive training for ICD-9, ICD-10, CPT and HCPCS
Salaries from $37,283/yr to $68,283/yr (US Dept of Labor)
Job Placement Assistance Provided
Course length: 260 hours (3 months)
Course Fee: $1,995
Fees And Course Payment
The course has a fee of $1,995
About the Course
Associate Degree in Medical Billing and Coding: This program prepares the student for the exciting and demanding career in Medical Billing and Coding. The program teaches the student all current coding bases and classifications. After completing the program, the student will be able to correctly and efficiently locate correct codes for medical procedures, as well as perform and be familiar with the medical billing process. The MBCS program covers four major sections:
ICD-9 – a set of codes used by physicians, hospitals, and allied health workers to indicate diagnosis for all patient encounters. This section will teach the student how to identify and classify medical procedures using ICD-9 codes.
ICD-10 -a revision of the ICD-9-CM system which physicians and other providers currently use to code all diagnoses, symptoms, and procedures recorded in hospitals and physician practices. This section will teach the student how to identify and classify medical procedures using ICD-10 codes.
CPT/HCPCS – Current Procedural Terminology (CPT) is a medical code set that is used to report medical, surgical, and diagnostic procedures and services to entities such as physicians, health insurance companies and accreditation organizations. This section will teach the student how to identify and classify medical procedures using CTP/HCPCS codes.
Human Anatomy – basic overview of human anatomy and physiology.
In addition, the program covers:
Reimbursement, HIPAA, Compliance
ICD 10 Code Modifiers
ICD 9-Code Modifiers
Intro to Radiology
Intro to Pathology
Inpatient Coding
Program Length
The MBCS Program consists of 260 hours (3 Months).
How Much Do Medical Billers Make?
Salary averages for medical billers with no college made an average income of $44,338 in 2014, while those with some college or an associate's degree made an average $46,815, and those with bachelor's degrees made an average $54,552 A certification in Medical Billing opens the doors to many other positions, some of which pay over $75,000/yr – including Medical Coordinators, Resident Care Associates and Supervising Coding and Billing Specialists.
What happens once I graduate?
All course graduates receive a SEBRON Medical Billing and Coding Specialist Diploma upon course completion. All graduates are eligible for the SEBRON MBCS certification exam. The exam has 150 questions and is divided into four sections (please see above). The exam can be retaken multiple times. You have to pass each section with a score of 75% or better. Link to MBCS Exam Page
About SEBRON University
SEBRON University is based in Southern California and currently offers the following certifications and courses: Medical Billing, Medical Assistant, Paralegal, Legal Assistant. More about SEBRON University
What does a Medical Billing Specialist Do?
Compile, process, and maintain medical records of hospital and clinic patients in a manner consistent with medical, administrative, ethical, legal, and regulatory requirements of the health care system. Process, maintain, compile, and report patient information for health requirements and standards in a manner consistent with the healthcare industry's numerical coding system.
Protect the security of medical records to ensure that confidentiality is maintained.

Review records for completeness, accuracy, and compliance with regulations.

Retrieve patient medical records for physicians, technicians, or other medical personnel.

Release information to persons or agencies according to regulations.

Plan, develop, maintain, or operate a variety of health record indexes or storage and retrieval systems to collect, classify, store, or analyze information.

Enter data, such as demographic characteristics, history and extent of disease, diagnostic procedures, or treatment into computer.

Compile and maintain patients' medical records to document condition and treatment and to provide data for research or cost control and care improvement efforts.

Process and prepare business or government forms.

Process patient admission or discharge documents,using appropriate computer software (MEDISOFT).
What opportunities will you have as a Medical Billing Specialist?
The primary goal of the Medical Billing Specialist Course is to train students in the fundamental aspects of the industry, including understanding diseases and their impact on the body, diagnostics, treatments, procedures, anatomy and medical terminology. Through this short course, students become familiar with the contents of medical records and the industry-accepted processes for creating and indexing codes.
Pre-Requisites 
GED or HS Diploma
Recognition of Completion
A certificate of program completion will be awarded by the College.